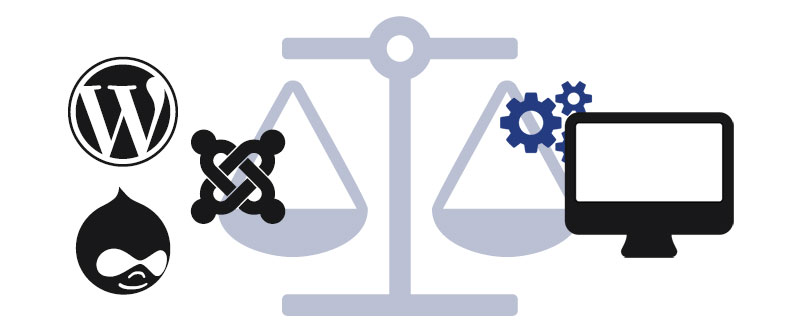 Website Ownership vs. Website as a Service
As the owner or manager of a business or non-profit organization, the task of finding the best website solution for your needs can be daunting. The long-term consequences of making a bad decision can be far more expensive and frustrating than the direct costs initially sunk into an inadequate solution. Lost opportunity costs, error-prone manual workarounds for missing features, data cleanup tasks and more can significantly increase the costs of a wrong solution as compared to a good solution.
The Landscape of Website Solutions
The open marketplace provides a large number of options for obtaining a website. The offerings range from free template-based websites that can be created in a few minutes, to completely custom-built websites that can take weeks or even months to build, and at an enormous initial expense. Between these two extremes, there are a large number of free and paid alternatives, all of which include pre-built functionality that reduces both time and costs of website creation and management.
The most economically sensible website solution for most businesses and non-profit organizations will usually be some pre-built but customizable system. There are many such systems. So a useful question is, which one is best suited to match your organization's needs? A good answer will account for features, initial costs, long-term and recurring costs, and support model; with these factors balanced against your organization's financial status, in-house technical expertise, and staff availability to assist with managing the website.
While all these factors, it is also important to recognize there are two basic ways you can obtain a professionally built and managed website.
1. Free Open Source Software ("FOSS")
Examples: WordPress, Drupal, Joomla, Orchard and many others
Note: Since WordPress is by far the most popular FOSS offering for websites, we will refer to this entire category as "WordPress" for the sake of convenience. If you are already familiar with WordPress on any level, and will likely compare any other solution to WordPress.
Description
With WordPress, you get a copy of the website source code that is made available to the public for no charge. You then customize it to your business-specific needs (or more likely, pay an expert to customize and manage it for you).
Fees
Despite "free" being part of the category name, only the source code is free, while the total cost of ownership can be very high. The website must be hosted somewhere for a recurring fee; and the website must be customized by someone with web technology expertise (and therefore consulting fees are usually incurred). When the customizations are extensive, there is usually some recurring service fee charged by the consultant to monitor, debug and assist with routine updates. Subsequent updates are typically billed at an hourly rate.
Getting Started
It is very likely (virtually certain) that you will need extensive customizations to WordPress in order to have the website you want. There are two alternatives for customization: (1) do-it-yourself, or (2) hire an expert to customize WordPress for you. So, the first step in getting started with WordPress is to find a WordPress expert.
Ongoing Support
Because most websites built on WordPress will be substantially customized, you will likely establish a long-term support contract with your WordPress expert. If your expert becomes unavailable or is not capable of delivering as needed, you will need to find another WordPress expert.
2. Website as a Service
("Software as a Service" or "SaaS")
Examples: Blue Core CMS™, Shopify.com, Storefront by Network Solutions
Description
Delivered as part of a SaaS offering, your website is part of a large existing system created and managed by a technology company. Your website is physically part of the larger system, and cannot be moved to another hosting provider
Fees
The fees paid for SaaS website offerings are almost always substantially less than fees paid for an equivalent WordPress-based website. Fees are usually set at a fixed rate, and are frequently all-inclusive (within reason).
Getting Started
A service provider will likely have a series of straightforward steps to guide you through the website creation process; or they will create it for you.
Ongoing Support
Support for the underlying system is automatically included with this type of website offering, as the underlying system is continually monitored and upgraded by the company that owns the system. Content update support is typically included in two ways: (1) there is a support team available to assist you; and (2) you can use self-service admin tools in the system that are designed for people who have no special expertise in web technology.
Trade-Offs
The table belows shows the fundamental trade-offs between FOSS and SaaS offerings.
The Good

The Bad

WordPress

You own it, and get all the benefits of ownership:

You can have any feature you want, on the schedule you want and according to your priorities, provided you have sufficient budget.
You can move the website to another hosting provider if desired or necessary.

You own it, and get all the problems of ownership:

Expense: WordPress and other "free" offerings really aren't free, and total cost of ownership can become quite expensive.
The support ecosystem is notoriously unreliable with "free" open source offerings like WordPress. Because of that, you end up paying more for things that should have been free (see #1 above) when your web expert needs to take more time to work around technical problems.
You are compelled to upgrade the underlying technology at least every few years for technical reasons. For security reasons, it is actually best to upgrade or patch several times per year. If you aren't installing and configuring updates yourself, then your technology expert will need to do it – thereby increasing your expenses (see #1 above).

Blue Core CMS™ or Other Proprietary Content Management System

Your website is part of our system (but you own all of your content).
Someone else owns and is responsible for managing the technology.

You don't own it, and therefore, don't have to deal with all the headaches of ownership:

Total cost of ownership is far less than an equivalent WordPress website.
New websites, or new features added to existing websites, can be created very quickly; hours vs days (compared to WordPress).
Services typically include support for content updates, thereby providing continuity of support for volunteer-run organizations.

You do not have to deal with the underlying technology, or pay another expert separate fees to keep your website current. This is because the underlying system is routinely updated to keep current with evolving technology, industry trends, best practices and new security patches.

You don't own it, and therefore, don't have the flexibility that comes with ownership:

You cannot move the website to another hosting provider.
You cannot have any feature you want – even if you are willing to pay to have it custom-built.

Both of the above statements are actually false (or mostly false) if your website is backed by Blue Core CMS™. If you are using our system, we can extend it specifically for you if you are willing to pay for the customizations. In this case, you get the best of both FOSS and SaaS, as your custom-developed features can be hosted anywhere (although integrated with Blue Core CMS™). We offer this advanced "hybrid" solution through our parent organization, Smart Access IT, Inc.