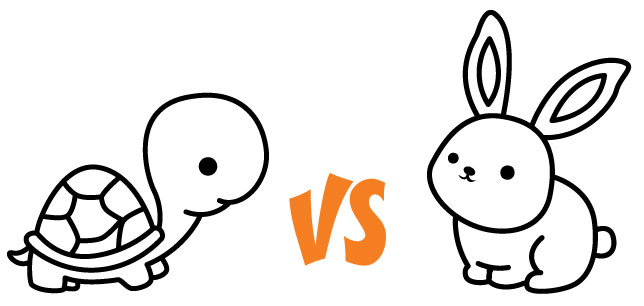 Search Engine Optimization vs. Search Engine Marketing (The Tortoise vs. The Hare)
Business website owners typically want their websites to rank high in search results. For some businesses, their fortunes rise and fall according to search engine rankings.
The challenge is to ensure your website will rank high in search results; at least on the first page, and ideally at the top of the page.
There are two general classifications of activities that directly affect search engine rankings:
Search Engine Optimization ("SEO")
Search Engine Marketing; or Internet Marketing ("SEM/IM")
Most businesses for which search engine rankings are of critical importance will engage both SEO and SEM strategies extensively in order to produce the best results.
SEO and SEM/IM in Perspective
Search engine optimization involves a number of modifications made directly to a website. And beyond the website, a solid SEO initiative will include the publication of articles and videos published on external websites (e.g., YouTube). All these external assets (articles and videos) should link back to the website being optimized. Careful planning is involved, with results measured and adjustments subsequently made over an extended period. The SEO process is usually cyclical, with recurring periods of analysis, adjustment and additional publications (both directly on the website and in backlink partner websites).
Search engine marketing, or Internet marketing, typically involves the creation of ads that are published on powerful ad networks. The ads usually have links back to the company website, and usually to landing pages crafted for specific ad campaigns. The various ad networks target specific destinations, consumer types and technology platforms. For example, there are a variety of ad networks that publish small ads that appear at the bottom of the screen in cell phone apps.
The Tortoise vs. The Hare
By way of analogy, the pace of SEO is similar to the tortoise; while SEM/IM is analogous to the hare in the fable of The Tortoise and the Hare.
SEO: The Tortoise
Effective SEO efforts notoriously take a lot of time – weeks and months, and sometimes at great expense. And because Google periodically changes its ranking algorithm, SEO efforts must be undertaken repeatedly over time in order to determine the effects of algorithm changes on a given website's rankings.
Some unscrupulous consultants attempt to circumvent the prescribed process by engaging in "Black Hat SEO" tactics. However, those so-called "black hat" efforts predictably fail to improve rankings, and can even hurt a website's rankings.
SEM/IM: The Hare
SEM/IM initiatives have a much faster impact on a website's visibility. For example, using Google AdWords, in as little time as about an hour of setup work, a given website can appear on the first page of Google search results pages in the Ads section. Beyond Google AdWords, in general, as soon as an ad campaign and its constituent ads and landing pages have been crafted and published, the Internet marketing initiatives will begin to have an effect, with ads appearing to the targeted recipients either immediately, or at the pre-determined and configured time(s).
Relative Expenses
In the early days of the Internet, it was true that SEO efforts were generally less expensive than Internet marketing efforts. But in recent years, this is simply no longer true. Many of the quicker and cheaper SEO tactics are known to be ineffective. The effective SEO tactics (such as developing large amounts of quality content and obtaining large numbers of valid backlinks) are not cheap. This is because effective SEO initiatives require large amounts of time and effort by truly competent SEO professionals.
A Reasonable Strategy for Modern Times
On-site SEO efforts are universally important and can be relatively quick-and-easy to perform. These are activities like crafting meaningful page titles and page names, and otherwise arranging the website content to be understandable to search engines.
Beyond on-site SEO activities, a well-planned Internet marketing campaign will produce nearly immediate results, with a wealth of metrics automatically collected by the big ad networks and platforms that will objectively inform on the effectiveness of your campaign(s). And the expense for all this can be about the same as the longer-termed off-site SEO activities.
The days of cheating one's way to high search engine rankings are over, along with the entire "Black Hat SEO" industry. And the big ad networks understand the tremendous value they can bring to small businesses who depend on quality traffic to their website. Your task as a business owner is to determine the amount of spending that justifies your investment in any SEO or SEM/IM initiatives; then find reputable and competent professionals to help plan and perform on your behalf.
---
Cover Image Illustration Credit: vecteezy.com