Our three-part managed service helps make the most of your organization's websites.
Special technology for hosting and managing websites
Targeted communications planning
Website and marketplace analytics
Blue Core CMS™
A website management system delivering both centralized and decentralized control over all your company's websites.
Blue Core CMS™ is designed for companies having multiple locations, where each location should have its own website
How it Works
Corporate administrators control some aspects of all regional websites, while regional website administrators are free to customize other aspects of their respective websites.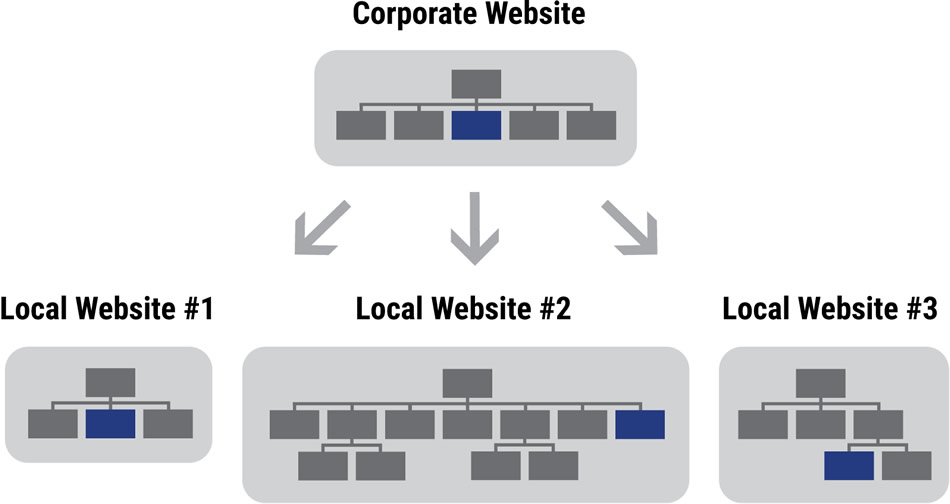 Corporate management can publish images, page text, and styling characteristics into all company websites from within the corporate website while otherwise allowing for each regional website to be independently customized.
For example, franchise corporate management can enforce corporate identity ("branding") standards and legal compliance requirements while allowing regional websites to be customized within prescribed bounds for local marketing purposes.
The common components are created and managed from within the main corporate website, then instantaneously published into each regional website with no need to manually update each regional website. And Blue Core CMS™ prevents regional website administrators from modifying the portions of their respective websites that are centrally managed by corporate administrators.
There is so much more to Blue Core CMS™
Completely custom website features and functionality developed specifically for your business can be seamlessly integrated into your Blue Core CMS-based Websites.
What You Get
Three-Part Managed Website Service
The three components of our managed services offering are: (1) Communications planning to inform exactly how to build each website; (2) website construction and management; and (3) website traffic analytics to inform future marketing initiatives.
Advanced Technology & Features
Our Blue Core CMS™ contains advanced technology and features. We update the platform regularly with the latest technology. Your websites are always compliant with current industry standards and best practices at no additional cost.
Website Traffic Analyltics
Each website is connected to an advanced website traffic analytics service that provides objective insights into quantities, sources, and patterns of end-user engagement. Website analytics provide a basis for future marketing decisions.
Communications Planning
Our guided process for developing a targeted communications plan ensures we understand your business, customers, and targeted market(s), thereby enabling us to develop your websites to effectively reach and serve your target audience.
Personal Assistance
We have deep in-house communications and technology expertise. We understand Web technology must be informed by sound communications plans in order to produce the most effective results.
Modern Mobile-Friendly Websites
Each website is built using modern technologies for mobile devices. The user experience is seamless across browser types and devices, with page layouts automatically reconfigured for the current user's screen size.
Control Over Routine Updates
The self-service administrative tools in Blue Core CMS™ allow regional administrators to update their respective websites. Or as part of our managed services offering we can perform all authorized website updates.
Peace of Mind & Confidence
We deliver the peace of mind and confidence that comes from having your website's messaging, technology, and features deliberately crafted to effectively reach and serve your customers and targeted sales prospects.